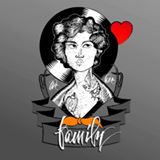 UK WE ARE FAMILY // PROMOTED
Biography
We are a group of Italian young people , moved to London not to long ago, all of us with the passion for the music. Our type of music is tech, Tech House, Minimal Techno, Techno. We will bring the colours, the joy, the happiness of the real party/ after party (FIESTA) which is going to be completely different than the dark underground style of the party in London.
Our project is to let the young artists become famous with the passion for the music.
The name "We are family" has been create from us , a small Italian community, came to London to let the family become bigger with the love for the music.

BIOGRAFIA
Siamo un gruppo di ragazzi italiani, spostati a Londra non tanto tempo fa, con la passione per la musica sviluppatasi fin da piccoli.
Il genere musicale che piu' ci rappresenta e' Tech, Tech House, Minimal Techno, Techno.
Con le nostre feste riporteremo i colori, la gioia, il divertimento della vera festa / after party (FIESTA), estraniandosi dalla realta classica dark underground londinese.
Con la creazione di questa organizzazione, c'e il progetto di far conoscere nuovi giovani artisti, con l'unica grande passione per la musica.
Il nome "We are family" tradotto "Noi siamo una famiglia" e' stato creato da noi, una piccola comunita' di italiani emigrati a Londra, con l'intento di far diventare grande questa famiglia.