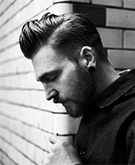 RØDHÅD DJ
Rødhåd has been socialized by Berlin's looptechno nights and always finds the perfect balance of timeless techno to lift the dancefloor higher and higher.

His style is always deep, powerful and melancholic - from dubtechno to techno and back to house.

A technological society, a mechanist present, an industrial era... long and dark nights, warehouses, cogeneration plants, noise.

Which kind of music matches the rhythm of Western civilization better than Rødhåds music?!