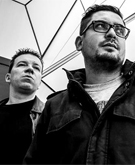 ABSTRACT DIVISION DJ
Abstract Division is a young and exciting collaboration between two veteran techno artists; Paul Boex and Dave Miller. Paul is label-boss of the respected Dynamic Reflection imprint, experienced DJ and producer, and the driving force behind the series of succesful Mental Evolution events in the Netherlands. Dave has earned his stripes through his longstanding career of (vinyl-only) DJ-sets, productions with Damian Keane and as part of the Audiosculpture collective. Combining their love of and keen ear for techno that stands out from the gray majority, Abstract Division knows how to surprise, teach and get people dancing their faces off all at once.
Conveying a characteristic sound that stems from a mutual background in Detroit, Berlin and Birmingham techno Abstract Division merges a basement vibe with a warehouse feel; drones and soundscapes meet straightforward uplifters in a way that simply makes sense. With well over twenty years of shared experience in playing out and producing tracks under their belt, Abstract Division knows their game and fits any bill perfectly. Getting a room in the right mood, building on a present vibe or tearing a club a new one; leave it to them to deliver on all occasions.
Up until now Abstract Division have released two well-received trilogies on Dynamic Reflection: "Form and Function" and "Time and Perception", containing both original tracks and remixes by Norman Nodge, Psyk, Jonas Kopp, Ben Sims, Delta Funktionen, Shifted and more. They have also released music on Orbis Records and Labrynth and have more new material coming up. In the meantime, their agenda has been rapidly filling up with performances at Berghain, Tresor, Awakenings and Awakenings Festival, Sonar and more.