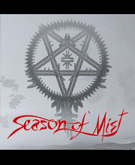 SEASON OF MIST LABEL
As a label, Season of Mist is well known in the Metal circles for being an innovative, wide spectrum label, always interested in exploring and developing new paths. From discoveries in extreme Metal to mythical bands like MAYHEM or ROTTING CHRIST and well-known acts like ARCTURUS, CARPATHIAN FOREST, SOLEFALD, ANAAL NATHRAKH or CYNIC, Season of Mist leads the Heavy Metal Hordes towards creative horizons.
Season of Mist is based in Marseilles, France and Philadelphia, USA. Having two offices the label is heavily present in the world's two biggest markets for metal and rock music: Europe and America. All releases are well promoted with reviews, interviews, advertisements & co-ops, samplers, giveaways, merchandise, touring, etc.
Besides its activities as a record company, Season of Mist is distributing records from its own label and about 90 other labels like Metal Blade Records (SLAYER, CANNIBAL CORPSE, AMON AMARTH...), Spinefarm Records (NIGHTWISH, CHILDREN OF BODOM…) or Napalm Records (TRISTANIA, LEAVES' EYES…) in France. All the while having an eye on the underground Season of Mist has also established contacts with the chain stores, succeeding in covering France in an effective way distribution wise.