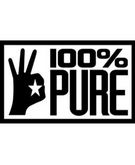 100% PURE LABEL
Amsterdam label founded in 1993 by Sandy Huner and Dylan Hermelijn (2000

and One, Edge of Motion). Home of the early works of Steve Rachmad, Jerome,

Stefan Robbers, Orlando Voorn, just to name a few.
100% Pure is known for its diversity in electronic music. As early releases

by the label where picked up by the likes of Dj Krush, Carl Craig, Derrick

May, Laurent Garnier, Darren Emerson and Michel de Hey. New talent as well

as respected well known artists appeared on the label.