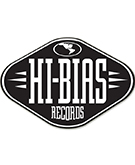 HI-BIAS RECORDS INC. LABEL
HI-BIAS Canada's Premier Dance label



For an independent label to survive for close to two decade in the volatile world of the record industry is an impressive feat. But Hi-Bias hasn't just survived, it has thrived. And that is an achievement worthy of serious celebration.



In 1999, the label's driving force, Nick Fiorucci, was inducted into the CanDance Hall of Fame. The Hall, dedicated to the pioneers and builders of Canadian dance music, recognized Hi-Bias as Canada's most successful underground dance indie.



Hi-Bias's achievements in Canada only tell part of the story. Its global vision has been a crucial ingredient in its success. Nick Fiorucci has taken Canadian dance music to the world, and in turn introduced new styles and artists to the domestic market.



The original motto of Hi-Bias was 'The DJ's Label.' This mandate brought the fledgling label instant recognition and credibility upon its launch in 1990. "We started as a DJ label, primarily selling vinyl," recalls Fiorucci. "DJs would buy our titles from specialty dance music stores, and that would create a buzz about our tracks. We exported as well, and that created interest from third party labels overseas, resulting in licensing the tracks."



Nick Fiorucci's background as an internationally-renowned club DJ stood him in good stead as a dance music label head. He first started as a DJ in Toronto at 17, lying about his age to get club gigs. One of these was at Affairs, a dance music institution in the late '80s. The seeds of Hi-Bias were sown when Fiorucci befriended another DJ there, Michael Ova.



From breaking songs into hits, this adventurous duo progressed to creating their own versions for the club, then making original demos. "We modified them for the dance floor, took our cues from the crowd, and they loved it," says Fiorucci.



Nick then teamed with another partner to create his first record label, the now legendary Bigshot Records. After some internal label problems, Fiorucci re-teamed with Michael Ova to launch Hi-Bias. The label was an instant smash. Their debut release was the single "Get Into The Music" by DJ'S RULE. It became an immediate hit, reaching No. 1 on the playlist of London, England's KISS-FM, charting internationally and getting licensed extensively overseas. DJ'S RULE was actually the duo of Michael and Nick. Intriguingly, they helped boost the career of future R & B singing star, Deborah Cox, by using her as frontperson for a DJ's Rule U.K. club tour.



Other artists quickly became aware of this dynamic new label. The first batch of Hi-Bias signings included Oval Emotion, Temperance and Red Light, all destined to become major acts in Canadian dance music. Led by powerhouse vocalist Lorraine Reid, Temperance fared extremely well in both the dance and mainstream markets, and can now boast more Juno nominations than any other dance act.



In the early '90s, the European export market (especially the U.K.) provided the bulk of Hi-Bias business. Hi-Bias 12-inch vinyl singles ended up in DJ specialty shops all over Europe, with many top DJs there collecting every Hi-Bias release.



One incident illustrates Hi-Bias' popularity on the hip London dance music scene of the early '90s. "I visited Camden Market with our U.K. rep and was amazed to see a vendor with a Hi-Bias stand. It was full of our merchandise: caps, T-shirts, shorts, even key chains.



The Hi-Bias logo had become so popular, people were bootlegging it. I thought it was flattering, so I didn't think of suing them!"



The Hi-Bias commitment to quality and innovation remains undiminished, even as its roster has expanded into other genres. "Our production sound has naturally got stronger and more polished over the years, but we haven't lost the edge for the dance floor."



Now in its sixteenth year, Hi-Bias boasts a vibrant, varied roster. New artist Sherrie Lea is already attracting major attention world wide her cool and sultry sound. Winnipeg-based producer Taras has enjoyed impressive success with 'Liftoff', his full-length Hi-Bias debut, including two radio hits 'I Love You' and 'I Will Love Again'. Additionally, Hi-Bias has developed extremely successful compilation brands including the popular 'A Trip In…', 'Retro Active', and 'Old School Nation' series, among others. Now, with a website averaging one million hits a month, and a complete digital catalogue, Hi-Bias continues to stay relevant in an industry notorious for short-lived successes.



Outside his responsibilities as Hi-Bias head, Fiorucci remains a much in-demand club DJ, remixer, and producer. Nick's credits include Britney Spears (two hit singles), T.L.C. (a hit version of "No Scrubs" for BMG), British stars M-People, Sunscream and Nomad, Euro-popsters ATB, Eiffel 65, 2 Brothers On The 4th Floor, and Urban Cookie Collective, US successes De' Lacy, Jay Williams, Masters At Work and Pulse, Nettwerk industrial act Single Gun Theory, and popular Canadian artists such as Celine Dion, Gino Vannelli, Jacksoul, Shawn Desman and Keshia Chanté. "I love the challenge of remixing," explains Nick. "You get to re-create and re-structure something, gearing it to a different audience." His own reputation as a remixer helped Hi-Bias recruit such aces as Frankie Knuckles, Todd Terry, StoneBridge and Steve 'Silk' Hurley for their 'Greatest House Remixers In The World' collection. These non-label gigs keep Fiorucci on the cutting edge of new sounds, styles and production techniques, and ensures the Hi-Bias is on top of its game.



Hi-Bias' role in giving Canadian dance music an international profile and boosting confidence in domestic talent cannot be over-estimated. The label's fusion of passion, ability and determination will see Hi-Bias remain a vital and valuable force for many years to come.