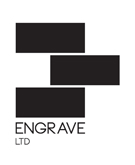 ENGRAVE LTD LABEL
On 14 February 2013, a momentary change of space-time has opened a door on the third planet of the solar system. This event allowed a flowing of information from a parallel dimension, some genetically predisposed individuals have now these datas in their consciences.



Engrave Ltd is a foundation established with the aim to identify and bring together these individuals around the world in an attempt to codify this knowledge through the universal language of music.

The full list of members is currently restricted for security reasons.



Few of them like Dodi Palese, Musumeci and A45 are already known for their contributions and collaboration with some people close to the foundation as Myk Derill, Marcello Napoletano, Owen Jay & Melchior Sultana, Snuff Crew and Guido Nemola.



The efforts of the Engrave Ltd foundation are already supported by artists such as Dixon, Ame, Mano Le Tough, Sasha, Marcell Dettmann, Laurent Garnier, Alex Niggemann, Solomun, Vince Watson, Christian Prommer, 2000 & One , Ilario Alicante, Slam, Pig & Dan, Jonas Kopp, Alan Fitzpatrick, Gary Beck, Ben Sims and Thomas Schumacher, but also by an increasing number of careful observers.