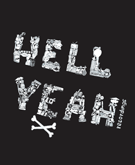 HELL YEAH RECORDINGS LABEL
"If you didn't know, Hell Yeah is the Italian label hell-bent on releasing the best modern disco(ish) you can find. Sometimes it's blissed out and Balearic, sometimes it's squelchy and down-right weird and sometimes it's the sort of enlogated, tribal stuff that works dancefloors into a salacious frenzy" (Kristan J Caryl - DJ MAG January 2014)

Hell Yeah Recordings, a descendent of leading Italian dance label Mantra Vibes is an Italian-based electronic music label active since 2006. Releasing from Ferrara, Bologna, and Amsterdam and led by Marco Gallerani "peeDoo" (A&R), the label bases its philosophy on a diversity of artists and recording experiences tied together by a common vision of what defines quality progressive recording.

With a sound as diverse as the artists it represents, Hell Yeah does not limit itself to the constraints of genre but packs a complex palette of sounds ranging from techno to minimal-nu-rave to electro-funk and tech house. Artists as varied as Radio Slave, Santos, Umek, Oliver Koletzki, Blatta & Inesha, and Luca Baldini have helped establish Hell Yeah's eclectic sound, a distinct take on party music loaded with a sonic Balearic feel good vibe that has made press around the world hail Hell Yeah as an up-and-coming label to watch.

Hell Yeah aims to build upon its current reputation as a leading Italian Electronic Music play, overseeing the release of a series of progressive productions that straddle genres, defy conventions and blur barriers between listening and dance music. Stemming from Hell Yeah's initial graphic identity formed by Neverending's Rocco "the Boghe" Pezzella, new mind-bending web and label artworks from Italian artist Andrea Amaducci and the Berlin-based Ice Cream For Free collective promises complete visual as well as aural stimulation.