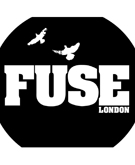 FUSE LABEL
Since its inception in 2008, FUSE has established itself as a London institution and a major player on the international clubbing circuit, hosting over 300 successful events across Europe and around the world, whilst launching two critically acclaimed record labels. The philosophy of FUSE is simple: to stand out from the crowd by hosting exceptionally high-quality raves, built around superior-technical standards of sound design, and a close-knit core of residents. FUSE ensures line-ups are always well programmed and resonate with the distinctive FUSE sound.

Established at the tail end of 2008, FUSE quickly took Sunday clubbing in London to another level. Initially taking place at infamous East London hotspot 93 Feet East, the then weekly party also evolved its own unique dub-house sound, exploring the deeper shades of house and techno. From the beginning the main ingredients of the party have always been a strong focus on a high-technical standard of sound production, combined with a visual emphasis on warm ambience and red lighting that further enhances the sound and atmosphere.

In 2013 FUSE move up the road to Village Underground where it continues to attract house music aficionados in their droves, with the crowd carefully selected on the day to ensure the special vibe is maintained. There are on average two events per month in Autumn Winter and Spring, and one event per month in the Summer.

Over its five-year existence FUSE has consistently sold out their events, with the major reason for this success being the exceptional core of FUSE residents: Enzo Siragusa, Seb Zito, Rich NxT, Rossko and an extended group of up and coming UK based artists who have come from the FUSE dance floor. Despite being a resident focused brand, a number of renowned DJs have frequently played at FUSE events and these include tINI, Sonja Moonear, Onur Ozer, Guti, Julian Perez and Alexkid.

As the FUSE brand the profile of its residents has grown, the demand to host events across European cities has also increased, and this will no doubt continue with pace as we journey further in 2014.

The one outpost that has had a regular dose of the FUSE magic is Ibiza where Enzo and co. first held a monthly residency at Ushuaia Ibiza in 2010, an event at Circo Loco at DC10 in 2011 before moving to a monthly residency at Sankeys Ibiza in 2012. This led to the hugely successful weekly residency at Sankeys Ibiza in 2013. And with another season on the White Isle confirmed for 2014 FUSE will no doubt be a 'must-attend' event for visitors to Ibiza once again.