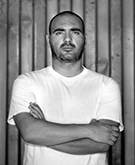 PAKO S DJ
Pako was always going to deal with music .
He first approaches the club culture world when he is only 17 most of all to satisfy his deep curiosity about such new musical atmosphere in his home town .
Born in Naples, Italy, he is raised surrounded by music .His uncle, a professional teacher of solfeggio teaches him basic notions that turned out to be precious for his Djing as well as producing career.
The first events he organizes himself as a Pr for Angels of Love group , are mainly a mean in order for him to afford the purchase of his first real deck station to start training as a dj. From the very beginning, Pako has already made his mind up about which kind of sound represents him the most : despite he enjoys experimenting he remains faithful to deep house during his all career .
In '97 he plays as resident @Acadie (Calabria) and from then a full schedule both in Italy and abroad gets started.
In '99 also gets his residency as one of the Angels of Love djs and only two years later he has an active role in the REVOLUCION project @ Space club with Marbo and Dj Harvey.
Soon he heads acts in famous italian clubs such as : Magazzini Generali (Milano)- Ennennci , Disco Metropolis (Na) - Peter Pan Riccione- Guendalina (Lecce)-Marabù (Ct)-Pierre (To),
Il 2003 is a very important year for Pako thanks to the successful collaboration between Angels of Love and Carl Cox, in whose project he has a role not only as organizer but as resident dj as well , the night is awarded as best of the Island in 2006 .
In 2008 a short residency called SITE-L at Pacha club gains general positive feedbacks , joined by djs such as Jay Haze, Cassy , Tini Jennifer Cardini etc ..
The natural progression for him is a record label of his own, DEEPENDENCE in 2008 since then releasing 12 tracks as digital a well as 6 on vinyl per year .
Same year a new concept event of his own called DEEP N' MORNING was born, the name not only derives from the label but is inspired to nature and open spaces too ,that is why the events take place from noon to midnight, always outdoor and in touch with natural elements .
The following two years are almost in foreign land : Indonesia @ Kudetà, Zouk @ Singapore and Australian festival Playground weekender as well as China , Shangay and Hong Kong at clubs "DROP".
In 2010 Pako is again conceiver and organizer of an event @ SONAR OFF in Barcelona called "who's in who's out" to which take part Italian labels such as Deependence and take place @ hotel HOME .
In 2011 another event whose conceiver is still Pako and his staff was born : DÉJÀ VU an event which is a sort of a peaceful protest against local institutions which have completely abandoned the city to its sad destiny as well as a way to meet foreign promoters and give birth to new collaborations.