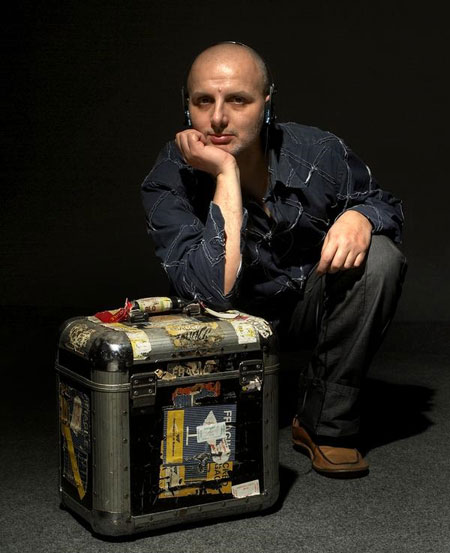 FLAVIO VECCHI DJ
You could encapsulate Flavio's 'sound' using the words of the music journalist who,after a DJ set Flavio played in London many years ago,on his articole said" What renders him unique is his innate ability to merge and alternate hot rythms and moving atmosphere. To listen to his DJ set is to allow yourself to be transported on a carpet of warm interwoven sound, sometimes open sometimes deep,from which suddenly flows the power of house beat. Then, when that beat seems to fade away, the Maestro controlling it is there to pick you up and carry you on to the next wave"




Flavio Vecchi is part of the Italian Old Skooll having begun his career as a dj in the early '80, first coming to notice in small clubs in his home city of Bologna, until, in 1987, he took on responsibility as the only resident dj in a club which was to make history: Ethos mama.

Ethos mama club in Riccione, the first club in Italy where people listened and danced to what was then revolutionary: Chicago Traxx, Tekno Detroit, Deep House,N.Y.C.grooves.
From 1991 this same mood transferred to the now Echoes club still in Riccione, known to all as the true authentic Italian underground house club, where Flavio, playing with his impeccable and original charisma and style, has brought in people from all corners of Italy.


Playing until 5 in the morning was not enough, and so in 1990, with a group of friends, amongst whom dj Ricky Montanari, he inaugurated the first two Italian after hours," Diabolika"and" Vae Victis".

His experience abroad, including in London, Paris, Tokyo, Brussels, Amsterdam, Geneva, Zurich,Bucarest and Ibiza(just to named a few) contributed to making him Top DJ, or as he is called in Italy, the Maestro.


London has always been his favourite place, from the old times of Confusion underground club with dj Kid Batchelor, to the golden days as guest dj at the Ministry of Sound,.at The Cross(Vertigo) and at The Turnmills(Gallery).