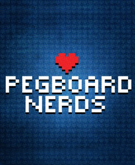 PEGBOARD NERDS DJ
Pegboard Nerds are a Danish/Norwegian electronic music group, consisting of Alexander Odden and Michael Parsberg. They produce Electronic Dance music in such genres as Dubstep, Electro, Drumstep, Glitch Hop and Trap.
Odden and Parsberg met for the first time in 2005, after they had previously produced for other artists, remixed various songs, and produced music.
Pegboard Nerds are currently in contract with Monstercat. Previously their records were released with disco:wax. Since early 2014, the two artists have begun releasing tracks that are more pertaining to House and Electro, even reaching out to a Hardstyle track called "Hero (feat. Elizaveta)", instead of their typical and previously infamous style of glitch hop and drumstep that really got them noticed. Some fans discourage this change, but their tracks are still dominating the latest Monstercat albums for individual purchases.