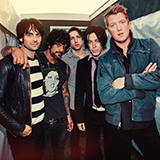 QUEENS OF THE STONE AGE BAND
I Queens of the Stone Age (o anche QOTSA) sono una band alternative rock statunitense, nata nel 1996 in seguito allo scioglimento dei Kyuss, band cardine e vero fulcro attorno a cui è nato e si è sviluppato il cosiddetto stoner rock.
I Queens of the Stone Age erano stati originariamente formati con il nome "Gamma Ray" dal chitarrista Josh Hommec, assieme al batterista Alfredo Hernandez. Lo stesso Homme ha descritto lo stile della band come robot rock, nome che vuole dare l'idea della continua ripetizione di riff che lo caratterizzano.