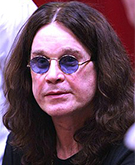 OZZY OSBOURNE SINGER
John Michael "Ozzy" Osbourne (Birmingham, 3 dicembre 1948) è un cantautore, compositore e attore britannico, divenuto famoso prima con i Black Sabbath e poi con una carriera solista di grande successo, tanto da essere riconosciuto da tanti come "il padrino dell'heavy metal".
Per la sua musica e per il suo carisma sul palco, Ozzy è considerato un innovatore del genere. Il cantante è anche noto per i suoi atteggiamenti trasgressivi, i quali hanno spesso suscitato le polemiche di gruppi religiosi e conservatori, e per i suoi eccessi, che lo hanno spesso esposto a problemi con la legge. Nel corso della sua carriera si è guadagnato vari soprannomi; i più noti sono "The Madman" (Il Pazzo), "The Godfather of Heavy Metal" (Il Padrino dell'Heavy Metal), "The Prince of Darkness" (Il Principe delle Tenebre) oppure "The Oz". Nella sua carriera solista Ozzy Osbourne ha venduto oltre 50 milioni di dischi in tutto il mondo. 100 milioni di dischi, in totale, contando la sua carriera nei Black Sabbath, dal 1970 al 1978.