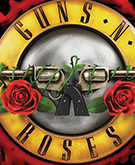 GUNS N' ROSES BAND
I Guns N' Roses sono un gruppo hard rock statunitense, formatosi a Los Angeles nel 1985. Lo stile sonoro, l'immagine trasgressiva e le performance dal vivo li aiutarono a dominare la scena musicale tra la fine degli anni ottanta e l'inizio dei novanta.
Dal 1993, il gruppo ha conosciuto problemi e silenzi, a causa di contrasti tra il cantante Axl Rose (ritenuto il leader carismatico della band) e i membri originari. Rose, che è anche autore della maggior parte dei testi, è stato l'unico membro della formazione originale fino al 2016 quando a lui si riuniscono Slash e Duff McKagan per il Coachella Valley Music and Arts Festival.
In totale, i Guns N' Roses hanno venduto oltre 100 milioni di dischi in tutto il mondo e sono stati inseriti al 92º posto nella lista dei 100 migliori artisti secondo Rolling Stone.
Il 14 aprile 2012 il gruppo originale è stato inserito nella Rock and Roll Hall of Fame dai Green Day.