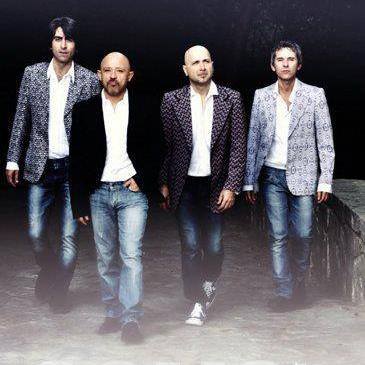 SOLIS STRING QUARTET BAND
il Solis si forma nel 1991, dall'incontro di quattro giovani talenti assoluti diplomatisi al Conservatorio di San Pietro a Maiella di Napoli .
Compositori e arrangiatori, Luigi De Maio – Violino , Gerardo Morrone – Viola,
Vincenzo Di Donna - Violino, Antonio Di Francia - Cello , unendosi
hanno dato vita ad una delle più significative esperienzeartistiche mai prodotte dalla città di Napoli.
In più di venti anni di attività, i Solis hanno sviluppato una personalissima cifra artistica in grado di spaziare dal pop al jazz, dalla world music fino alla migliore musica contemporanea.
Questa caratteristica li ha presto messi in relazione artistica con talenti ed artisti dall'altissimo profilo internazionale.....

The Solis String Quartet,born in 1991, from the encounter of four young graduated absolute talents of the Conservatory of San Pietro a Maiella of Naples.
Composers and arrangers, Vincenzo Di Donna - violin, Luigi De Maio - violin, Gerardo Morrone - Viola, Antonio Di Francia - Cello, joined to give life to one of the most meaningful artistic experiences ever produced in the city of Naples.
From 1991 until today, the ensemble has covered an artistic path of high importance, becoming undoubtedly one of the best Quartets of Europe in their genre.,,,,

Le quatuor de cordes Solis String Quartet, est né en 1991 de la rencontre de quatre jeunes talents, tous diplômés du Conservatoire de « San Pietro a Maiella » de Naples.
Compositeurs et arrangeurs, Luigi De Maio (Violon), Gerardo Morrone (Alto), Vincenzo Di Donna (Violon) et Antonio Di Francia (Violoncelle) ont créé ensemble une de plus importantes expériences artistiques jamais produites à Naples.
Depuis 1991, l'ensemble a développé un parcours artistiquede grande importance qui le voit sans doute parmi les meilleurs quatuors à corde d'Europe.....

O Solis String Quartet, Nasce em 1991, do encontro de quatro jovens talentos, diplomados no Conservatório di San Pietro a Maiella em Napoles - Italia. Compositores e arranjadores, Vincenzo Di Donna ( violino), Luigi De Maio (violino), Gerardo Morrone (viola), Antonio Di Francia (violoncelo ). Juntos, deram vida à uma das maiores e mais marcantes experiências artísticas nunca antes produzida na cidade de Nápoles.
A partir de 1991 ,l'ensemble percorreu uma trajetoria artística de enorme importância, que o inseriu no ranking dos melhores quartetos, do gênero, na Europa....