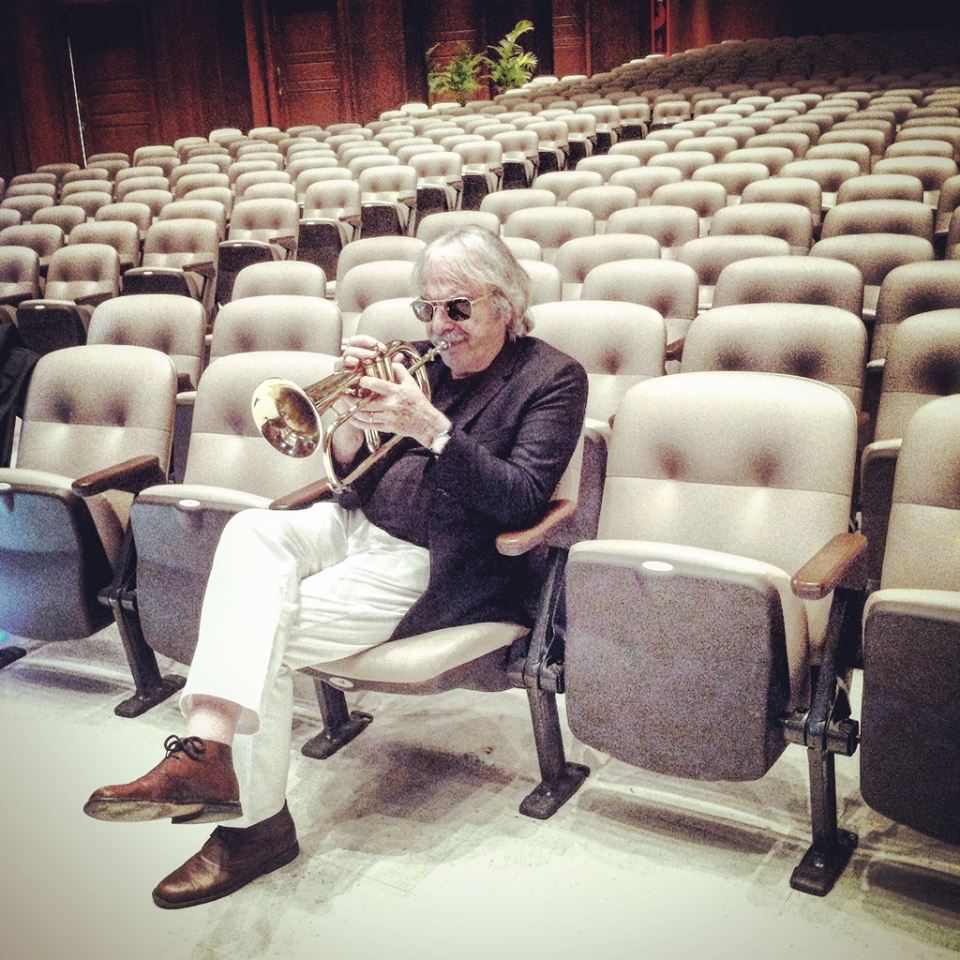 ENRICO RAVA MUSICIAN
From www.enricorava.com

Enrico Rava, born in Trieste in 1939, is undoubtedly the most internationally acknowledged Italian jazzman.
In forty years of his career as trumpet player, and composer, he has produced more than ninety recordings, tweny-five of which as a leader.
Being a great admirer of Miles Davis and Chet Baker, his career started at an early age, when he played in clubs in Turin.

In 1962, he meets Gato Barbieri with whom, two years later, he records the soundtrack for Montaldo's film "Una bella grinta". In those years he meets Don Cherry, Mal Waldron and Steve Lacy, with whom he plays free jazz in a quartet alternating between London and Buenos Aires (it is in Argentina in 1966 that the quartet records the album "The Forest and the Zoo").
In 1967 Rava is in New York, where he is introduced into the free avant-garde, among which are Roswell Rudd, Marion Brown, Rashied Ali, Cecil Taylor, Charlie Haden, Marvin Peterson etc.
After an italian parenthesis, during which he plays with various musicians including Franco D'Andrea and where he records with Lee Konitz in Rome and with Manfred Schoof in Bremen, he returns to New York in 1969, where he lives for eight years.
At first he plays mostly with Rudd, Bill Dixon and Carla Bley's Jazz Composer's Orchestra, under whose direction he records "Escalator Over the Hill".

Beginning in 1972, when he records his first album as a leader, "Il giro del giorno in 80 mondi", Rava directs quartets (in New York clubs and on tours in Europe and Argentina), nearly always in pianoless groups.
The playings and recordings follow one another, in a precious and uninterrupted flow, beside acknowledged italian, european and american musicians such as Franco D'Andrea, Enrico Pieranunzi, Marcello Melis, Massimo Urbani, Paolo Fresu, Pietro Tonolo, Stefano Bollani, Roberto Gatto, John Abercrombie, Roswell Rudd, Miroslav Vitous, Richard Galliano, J.F. Jenny-Clark, Misha Mengelberg, Dino Saluzzi, Lee Konitz, Martial Solal, Charlie Mariano, the Globe Unity Orchestra, Cecil Taylor, Jimmy Lyons, Archie Shepp etc.

He has played on tours and concerts in USA, Japan, Canada, Europe, Brazil, China, Argentina, taking part in important Festivals (Montreal, Toronto, Houston, Los Angeles, Chicago, New York, Perugia, Antibes, Berlin, Paris Tokyo, Peking, etc).
He has several times been elected best musician in the annual referendum conducted by "Musica Jazz", and has also won the title in the "best group" and "best italian album" categories.
In the past years he has toured and recorded with his "Electric Five".