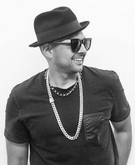 SEAN PAUL SINGER
Jamaican superstar Sean Paul released his sixth studio album, Full Frequency, in February 2013 on Atlantic/VP Records. The first of the albums songs, Other Side of Love, is an up-tempo track exploring complications in relationships that hit iTunes on June 10th internationally and June 11th in the US. Co-produced by super producer Benny Blanco and the Cataracs, the song was the first taste of Full Frequency and was quickly followed by the club banger Entertainment featuring 2Chainz & Juicy J and Entertainment 2.0 also featuring Nicki Minaj. Sean Paul also teamed up with Damian Marley for Riot, an energetic track that includes infusions of dancehall, hip-hop and EDM. The first official single off the album is Want Dem All featuring Konshens.
His Billboard hit singles include the Got 2 Luv U, Dream Girls, Temperature, We We Blazin', Like Glue, Give It Up to Me, Get Busy and his breakout international hit, Gimme The Light from his four previous studio albums Tomahawk Technique, Stage One, Dutty Rock, The Trinity and Imperial Blaze. Sean Paul's signature deejay style puts him in demand for collaborations with musics brightest stars such as Beyonce, Busta Rhymes, Keisha Cole, Kelly Roland and Rihanna. He has also lent is voice to tracks by Jamaican stars including Wayne Marshall, Ce'Cile, Futre Fambo, Mr. Vegas, Tami Chynn and is musical cohorts, Dutty Cup.
With his impressive cadre of hits and a spectacular stage presence, Sean Paul has toured the world and made his mark on over 100 countries. He has performed multiple times in Asia, Europe, Africa, North and South America and Australia in addition to several notable performances in his home region, the Caribbean. His hard work as a performer, songwriter and now producer has earned him a slew of awards and nominations including an America Music Award, a MOBO Award, a Soul Train Award, a BET Award and Billboard Music Awards nominations. Sean Paul has also walked home with the Grammy for Best Reggae Album on two occasions.
Full Speed Riddim is the next step in Sean Paul's continual dominance on the dancehall scene. Boasting an 11-track production with 3 music videos, his Dutty Rock Productions label has been making strides throughout the industry. The 2015 released project features some of dancehall's best to include Beenie Man, Bounty Killer, Cham, Konshens, J Capri, Elephant Man, Future Fambo, Ding Dong, Vanessa Bling, Mr. Vegas, Denyque and newcomer Mink Jo.
When not on stage or in the studio, Sean Paul catches up with his old Water Polo team or heads to the kitchen, as he is a trained chef.