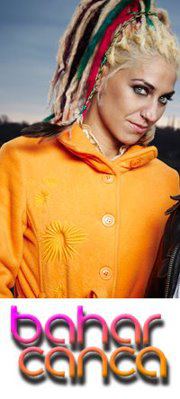 BAHAR CANCA DJ
Bahar Canca is a colourful personality, a crowd pleaser, and life and soul of the party whether she is behind the decks or the dance floor. Her playing style is described as prog-psy with a real funky attitude, the measure of the music and the girl.
Originally from Turkey, Bahar Canca is now one of London's most exiting female DJs leaving a lasting impression on the world of dance music. Arriving in London to study film in the mid-nineties, she was soon fascinated by the kaleidoscopic dance scene, the number of genres of electronic music, and the extraordinary manner in which the music removes boundaries between a diversity of people. Inspired in this environment, and by the power that positive energy has in bringing people together, Bahar Canca was born out of the simple need to share the music she loved with others.
Driven by this philosophy, Bahar worked her way into the London scene, soon finding herself resident DJ at underground night 'Rude Not 2', well-known as trend-setters and for their totally off-the-hook parties.
Now an established force on the circuit, Bahar's14 years as a DJ has seen her play many of London's most prestigious clubs and rated events. The Fridge nightclub, Egg Club, the Shake Down parties, Brixton's Telegraph, Ministry of Sound, the iconic Heaven club, and the legendary Turnmills club and their boat party, Inspiral Lounge, Alchemy parties, Elixir of life, Astral Circus events, Tribal Village parties, Baby Party are all on the list. Her credentials as a global DJ have taken her via many of the major clubs and festivals in her homeland Turkey, Budapest and Ozora Festival in Hungry, the Universo Paralello festival in Brazil, Sonica festival in Montenegro as well as Italy and the idyllic shores of Quilalea Island, Mozambique.
The talents of Bahar Canca are not exclusive to the DJ booth. She is similarly proving her capability as a producer, and managing her own record label Sub Bubble since 2010. She is also the founder and organiser for "Psy-boutique Festival" in Turkey, which hosted many amazing artist such as Shane Gobi and Dickster.

Bahar is excited by the mix of DJing with live musicians. She is currently working on an album with long-term friend and acclaimed Turkish rock singer, Ozlem Tekin. In addition, Bahar is collaborating with Ozan Celikel, a classically trained trombonist and international musician, who began his music career in 1991 and went on to study a jazz and world music degree at the Rotterdam jazz academy in the Netherlands. . Ozan has performed at Ozora festival and has been a member of the Antalya State Opera orchestra since 1999.


Bahar's lively personality is always evident in the music she plays and the energy she creates on the dancefloor. Her creative musical endeavours are constantly evolving and her party spirit and personality behind the decks makes her a must-have DJ at every party.