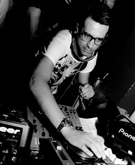 WILLY RAGOSTA DJ
Sin da piccolo coltiva la passione per la musica, incominciando a soli 10 anni a suonare la batteria. La passione per il vinile nasce quando comincia ad ascoltare i dischi del fratello che sono un mix di musica che abbraccia dal rock al funk fino alla disco music. Da li abbandona la batteria e comincia a comprare i primi dischi tra cui il brano storico dei Black Machine How Gee. Il suo carattere eclettico e solare gli permette di entrare in contatto con i promoter dei party piu esclusivi. Nel 1996 entra a far parte dello staff del discobar Mambo (locale storico napoletano), che gli permette di farsi notare ed apprezzare dalla night life partenopea. Nel 2000 diventa dj resident della discoteca Jungle di San Gineto (CS), locale che ha presentato i dj set dei nomi storici americani da Frankie Knuckles a David morales, e da li comincia a girare proponendo il suo dj set nei vari locali della costa calabra.
Nel 2003 crea il progetto FUNKYBOOTLEG, progetto nato per la realizzazione di versioni remix e re-edit di brani storici, rivisitati e adattati alle sue esigenze, che gli hanno permesso di rendere unico il suo live set. Oggi questi suoi bootleg, primo fra tutti quello in collaborazione con il dj DAVID JONES, ricevono ampi consensi dai TOP DJ mondiali quali THOMAS GOLD - FEDERICO SCAVO - HIIO - CRAZIBIZA - eSQUIRE – LUCA GUERRIERI – TOMMY VEE e vengono proposti nei loro DJ SET.
Nel 2004 entra a far parte della schiera dei dj resident del Joia Club, e da li comincia il suo tour tra i locali Campani. Grazie alla sua esperienza e al ricco background musicale, il suo nome è ed è stato inserito nei warm-up di grossi eventi musicali, tra cui i warm- up ai dj set di Michel Cleis, Skin, Martin Solveig, Roger Taylor, Daddy's Groove, David Morales, Todd Terry, Frankie Knuckles, Chocolate Puma, Wankelmut, Dj Falcon, Franky Rizardo, Dennis Ferrer, Crazibiza, Tommy Vee e molti altri.
----------------------------------------------------------------------
From an early age had a passion for music, beginning at just 10 years to play the drums. The passion for vinyl born when it begins to listen to records of his brother who is a mix of music that spans from rock to funk to disco music. To abandon them and the battery starts to buy the first records including the passage of the historic Black Machine How Gee. His eclectic and solar allows him to get in touch with the promoter of the most exclusive party. In 1996 he joined the staff of the disco Mambo (local historical Neapolitan), which allows him to get noticed and appreciated by the Neapolitan night life. In 2000 he became resident DJ Disco Jungle San Gineto (CS), who presented the local dj set of names American historians by Frankie Knuckles David morales, and from there begins to turn proposing his DJ sets in the various rooms of the Calabrian coast .
In 2003 she created the project FUNKYBOOTLEG, project created for the realization of remixes and re-edits of historical songs, reinterpreted and adapted to their needs, which allowed him to make unique its a Live Set. Today these his bootleg, first of all in collaboration with DJ DAVID JONES, receiving wide acclaim by TOP DJ world such THOMAS GOLD - FEDERICO EXCAVATION - HIIO - CRAZIBIZA - Esquire - LUCA WARRIORS - TOMMY VEE and are offered in their DJ September
In 2004 he joined the ranks of the resident DJ of Joia Club, and there begins his tour with locals Campani. Thanks to his experience and the rich musical background, his name is and has been included in the warm-up of large musical events, including the warm-up to the DJ set by Michel Cleis, Skins, Martin Solveig, Roger Taylor, Daddy's Groove , David Morales, Todd Terry, Frankie Knuckles, Chocolate Puma, Wankelmut, Dj Falcon, Franky Rizardo, Dennis Ferrer, Crazibiza, Tommy Vee and many others.