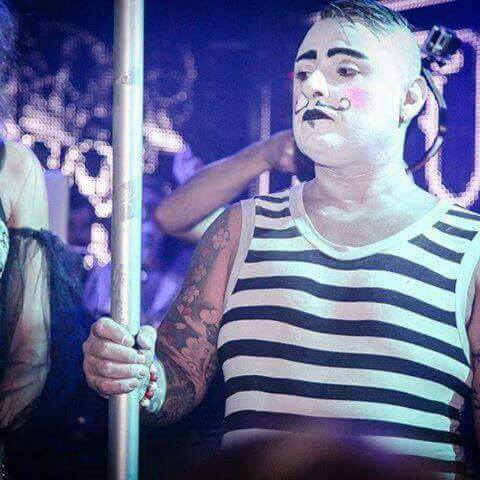 L' UOMO FORZUTO FREAKS
L'uomo forzuto
è uno dei bizzarri prsonaggi
della carovana del
CIRCO NERO

Questo non è il Circo triste degli animali in gabbia dalle unghie tagliate,
Non è il circo meraviglioso che tiene a bocca aperta i bambini di tutto il mondo,
e neppure quello struggente dei clown nani che inciampano nella vita con le loro scarpe troppo grosse.Questo è il circo della Musica e delle Passioni che urlano dentro !
Il Circo della notte !
il Circo Nero !!
VIDEO INTERVIEW
http://www.youtube.com/watch?v=Ii2vk7OEG8U&feature=youtu.be
YOU TUBE OFFICIAL
http://www.youtube.com/user/CircoNero?feature=guide
BOOK (italiano/Inglese) on Facebook:
https://www.facebook.com/media/set/?set=a.10150246482672247.367753.188433472246&type=3
scaricabile da Facebook anche in PDF
PAGINA FACEBOOK:
https://www.facebook.com/pages/Circo-Nero/395415127187171?ref=bookmarks
BROCHURE in INGLESE
https://www.facebook.com/media/set/?set=a.10150368780032247.402473.188433472246&type=3
scaricabile in PDF
AGENZIA STRANOMONDO (proprietaria Marchio)
we have play with dj
PAUL KALKBRENNER
ARMIN VAN BUUREN
TIESTO
SEBASTIAN INGROSSO
AXWELL
PETE TONG
NIKY ROMERO
RIVA STARR
MOGUAI
DADDY's GROOVE
THE MARIO
PAUL RITCH
LITTLE LOUIE VEGA
JEFF MILLS
TIEFSCHWARZ (SUPERSONIC FESTIVAL)
BOB SINCLAIR
SIS
SKIN
TOMMY VEE
CROOKERS
CONGOROCK
and many ..
some important gigs :
ITALY :
OLIMPIC STADIUM 2011 (SOUNDROME FESTIVAL, (22 thousand people)
https://www.facebook.com/media/set/?set=a.396262690435748.82186.395415127187171&type=3
DJ FESTIVAL in Viareggio (Cittadella del Carnevale) with Paul Kalkbrenner & Armin Van Buuren (Live Nation) 2013
INTERNATIONAL TENNIS COMPETITION PARTY (VIP Village, Rome)
https://www.facebook.com/media/set/?set=a.396339500428067.82201.395415127187171&type=3
INTERNATIONAL FILM FESTIVAL of VENICE
https://www.facebook.com/media/set/?set=a.396306920431325.82198.395415127187171&type=3
INTERNATIONAL FILM FESTIVAL of ROMA
https://www.facebook.com/media/set/?set=a.396322197096464.82199.395415127187171&type=3
EUROPEAN BOXING TITLE (Roma 2012)
https://www.facebook.com/media/set/?set=a.434812039914146.93308.395415127187171&type=3
SOUNDROME 2013 - STADIO SAN SIRO, MILANO
VIAREGGIO CARNIVAL
https://www.facebook.com/media/set/?set=a.396521787076505.82238.395415127187171&type=3
BERLIN FASHION WEEK
https://www.facebook.com/photo.php?fbid=398078316920852&set=a.396304243764926.82197.395415127187171&type=3&theater
CIRCO NERO BEACH PARTY 2012 (60 thousand people)
https://www.facebook.com/media/set/?set=a.396531253742225.82243.395415127187171&type=3
2011 30 thousand people
2012 60 thousand people
FIRENZE
http://www.youtube.com/watch?v=t2TEjBmpuxw&feature=youtu.be
EUROPRIDE, Rome 2010 (Lady Gaga)
MOSCOW
https://www.facebook.com/media/set/?set=a.397175940344423.82432.395415127187171&type=3
https://www.facebook.com/media/set/?set=a.423630411032309.90520.395415127187171&type=3
KIEV at FAMOUS CLUB
https://www.facebook.com/media/set/?set=a.396520390409978.82236.395415127187171&type=3
BARCELLONA (Shoko Club) and 5 days on CRUSING from Italy to Spain
CRUISING to BARCELONA, 22/25 June 2013
AMNESIA, IBIZA 2011 e 2012
LONDRA , Cafe' de Paris
https://www.facebook.com/photo.php?fbid=474921655884647&set=a.474919469218199.115295.258977124145769&type=1&permPage=1
http://uk.tilllate.com/it/event/10810567?ref=home-photos
LINK:
CIRCO NERO BEACH PARTY 2012 (60thousand people)
http://www.youtube.com/watch?v=bRKlfUg_Y00&list=UUQWuzJLKfN04gnuMUixDEqg&index=2&feature=plcp
CIRCO NERO BEACH PARTY 2011 (30 thousand people)
https://www.facebook.com/photo.php?v=10150328019684551
http://www.youtube.com/watch?v=UYy9n_PjkhE
7 Dicembre 2012 FIRENZE (INTRODUCTION)
http://new.livestream.com/pinkmonkeytv/circonero
http://www.youtube.com/watch?v=t2TEjBmpuxw&feature=youtu.be
ROCK'O CLOWN
http://www.youtube.com/watch?v=qYqTRxrXfIM&list=UUQWuzJLKfN04gnuMUixDEqg&index=3&feature=plcp
EVERY YEAR in FLORENCE
http://www.youtube.com/watch?v=dcTvi0leBW0&list=UUQWuzJLKfN04gnuMUixDEqg&index=13&feature=plcp
ROMA FESTIVAL DEL CINEMA
http://www.youtube.com/watch?v=ChCmARyHV84&list=UUQWuzJLKfN04gnuMUixDEqg&index=20&feature=plcp