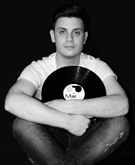 KUBECK DJ
GENERE
TECH HOUSE - TECHNO - SPERIMENTALE
CONTACT BOOKING: KUBECK@EMAIL.IT // PROMO: PROMOKUBECK@GMAIL.COM
BIOGRAFIA
EMILIO PIACENTE AKA KUBECK WAS BORN IN SCAFATI (SA) - 11/12/1988.
FASCINATED INCREASINGLY ON ELECTRONIC MUSIC, INFLUENCED BY THE SOUND OF MANY PRODUCERS AS RICHIE HAWTIN, MARCO CAROLA, LOCO DICE, LUCIANO, FANCIULLI, ADAM BEYER, CHRISTIAN SMITH, STEVE LAWLER, PACO OSUNA, PAUL RITCH, CHRIS LIEBING.
HIS CARREER BEGAN WITH SMALL EVENTS AND PLAYING IN CLUBS IN HIS COUNTRY.
HIS PASSION FOR ELECTRONIC MUSIC GREW MORE AND MORE AND HE DECIDED TO PRODUCE HIS OWN MUSIC.
AFTER THE FIRST FEW YEARS AS SINGLE MUSIC PRODUCER, HE ALSO DECIDED TO HAVE HIS OWN LABEL : SISMA RECORDS, COLLABORATING WITH ALFONSO FORTE. HIS LABEL WAS FOLLOWED, APPRECIATED, SUPPORTED BY MANY GREAT DJS.
AFTER THIS FIRST PERIOD EMILIO'S MINDING CHANGE! HE WANT TO TEST A NEW KIND OF SOUND, STARTING WITH A NEW MUSICAL PROJECT, HE CHANGE IS NAME WITH THE CURRENT ''KUBECK''
IN 2012 WAS PUBLISHED HIS TRACK CALLED HARP IN COLLABORATION WITH J&S PROJECT WITH THE FAMUS LABEL : RESPEKT RECORDING.
KUBECK IS CURRENTLY WORKING WITH MANY LABELS AND EXCELLENT PRODUCERS. HE WILL PUBLISH SOON ON SOME OF MAJOR LABELS, WITH COLLABORATIONS OF DJ PRODUCERS.