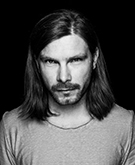 MARCEL DETTMANN DJ
DJ and producer Marcel Dettmann is recognised as being one of the most influential proponents of contemporary techno. Widely associated with iconic trademarks including Berlin, Berghain and Hard Wax, Dettmann stays true to his roots by consistently innovating his interpretation of electronic music, and, nevertheless, integrating art deeply into the music scene.

Raised in the former GDR, in a small town near Berlin, Dettmann had already begun to develop his passion for electronic music in his youth. You can count bands like Depeche Mode, The Cure and Front 242, as well as post-punk, EBM and industrial as his earliest influences, long before he discovered his affinity for techno. His hometown was seeing a lack of a record store being specialized in electronic music, so between 1995 and 1998 Dettmann has been selling vinyl from his own home. He purchased records from various distributers, Hard Wax amongst others, both to resell to his friends and to cement the foundation for his own considerable collection.

Like many of his friends, the mid-nineties saw Dettmann frequenting Berlin's nightlife. This included club institutions E-Werk and Tresor where the resident DJs of that time aroused his passion for the Chicago and Detroit influenced sound. In 1999, after many, including self-organised parties as well; the turning point came up; Dettmann started working as a resident DJ at Ostgut, Berghain's predecessor. Shortly thereafter upon receiving a job offer from Hard Wax, he finally moved to Berlin. His apprenticeship as a vinyl buyer and seller as well as DJ, granted him an extensive depth of musical knowledge and intuition.

Dettmann quests tirelessly for new ways and inspiration to further develop his own concept of electronic music. His own imprint MDR (Marcel Dettmann Records) serves as a platform upon which to shape his musical vision, and through its releases, to launch new talents onto the techno scene. As a curator and producer, Dettmann fosters the call to create in a way which is equally timeless and innovative. His own releases comprise two albums on Ostgut Ton, numerous singles and remixes for artists of various genres – Junior Boys, Fever Ray, Moderat, Commix, Clark and Laibach, just to name a few. Furthermore, he has produced compilations for the Belgian techno label Music Man, London's Fabric and Berlin's Berghain.

Outside of the club context, Marcel Dettmann has established himself as a multi-faceted artist. He designed the sound concept for New Works, an exhibition of photographer Frederike von Rauch, contributed to the contemporary dance project Masse – together with Frank Wiedemann and choreographer Nadja Saidakowa in cooperation with Berghain and the Berlin State Ballet. His single "Seduction feat. Emika" provided the soundtrack to director and screenwriter Parker Ellerman's short film of the same name.

As a passionate DJ and one of the faces of Berghain, Dettmann seeks to inspire his listeners with sounds both reduced and rough, balanced by emotional and surprising moments throughout his sets. Between pure techno, banging Chicago, tracks old and new of the past twenty-five years, Marcel Dettmann communicates his message with an apparent effortlessness.

-------------------------------------------------------

Marcel Dettmann ist ein DJ und Produzent, der zu den stilprägendsten Protagonisten der neueren Techno-Geschichte zählt. Weithin mit ikonischen Orten wie Berlin, Berghain und Hard Wax assoziiert, bleibt Marcel seinen Wurzeln treu, erweitert beständig seine Vorstellung von elektronischer Musik und verbindet Kunst mit der Szene.

Aufgewachsen in der ehemaligen DDR, in einer Kleinstadt nahe Berlin, entwickelt Marcel seine Leidenschaft für elektronische Musik bereits in jungen Jahren. Bands wie Depeche Mode, The Cure oder Front 242 sowie Post-Punk und Industrial zählen zu seinen ersten Einflüssen, bevor er seine Affinität für Techno entdeckt. Da es in seiner Heimatstadt keinen spezialisierten Plattenladen für elektronische Musik gibt, beginnt Marcel 1995 einen Vinyl- Handel bei sich zu Hause zu etablieren. Er kauft Platten verschiedener Vertriebe ein, zu denen auch Hard Wax gehörte, um sie an Freunde weiterzuverkaufen und zugleich die Basis seiner umfangreichen Plattensammlung aufzubauen.

Mitte der Neunziger Jahre geht Marcel wie viele seiner Freunde häufig im Berliner Nachtleben aus. Dazu gehören Club-Institutionen wie das E-Werk oder der Tresor, die seine Passion für den Chicago- und Detroit-geprägten Sound der damaligen Residents entfacht. Nach vielen, auch selbst organisierten Partys kommt 1999 der Wendepunkt, als er beginnt, als Resident DJ im Ostgut zu arbeiten, dem Vorgänger- Club des Berghain. Als er wenige Zeit später ein Job- Angebot von Hard Wax bekommt, zieht Marcel 2002 schließlich nach Berlin. In seinen Lehrjahren als Vinyl- Ein- und Verkäufer sowie als DJ eignet er sich ein weitreichendes musikalisches Wissen und Feingespür an.

Fortwährend ist Marcel auf der Suche nach neuen Wegen und Inspirationen, um sein Konzept von elektronischer Musik weiterzuentwickeln. So dient ihm sein eigenes Label MDR (Marcel Dettmann Records) als Plattform, seiner musikalischen Vision Gestalt zu geben und durch Veröffentlichung neuer Talente Impulse in der (Techno-) Szene zu setzen. Als Kurator und Produzent hegt Marcel den Anspruch, Zeitloses und ebenso Innovatives zu schaffen. Zu seinen Veröffentlichungen zählen zwei Alben auf Ostgut Ton, zahlreiche Singles und Remixes für Künstler unterschiedlicher Genre wie Junior Boys, Fever Ray, Moderat, Commix, Clark oder Laibach. Darüber hinaus stellt er Mix- Compilations für das belgische Techno- Label Music Man sowie für den Londoner Club Fabric und das Berliner Berghain zusammen.

Auch außerhalb des Club-Kontextes etabliert er sich als facettenreicher Künstler: so gestaltete Marcel das Sound-Konzept für die Ausstellung "New Works" der Fotografin Frederike von Rauch. Zusammen mit Frank Wiedemann und der Choreografin Nadja Saidakowa wirkt er an der Kooperation zwischen dem Berghain und dem Berliner Staatsballett an dem zeitgenössischem Tanz-Projekt "Masse" mit. Ferner dient Marcels Single "Seduction feat. Emika" dem Drehbuchautor und Regisseur Parker Ellermann als Soundtrack für seinen gleichnamigen Kurzfilm.

Als leidenschaftlicher DJ und eines der Gesichter des Berghains liebt es Marcel Dettmann, das Publikum mit reduzierten und rauhen, dennoch an Emotion und überraschenden Momenten nicht missenden Sets zu begeistern. Scheinbar mühelos weiß er zwischen puristischem Techno, einschlägigen Chicago Tracks, Altem und Neuem der vergangenen 25 Jahre zu vermitteln.