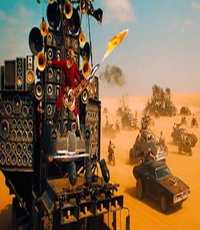 FURY ROAD: ESORDIO IN TESTA DA UN MILIONE DI EURO
MAD MAX
pubblicato da
Tommaso Cianciaruso
Non poteva essere che un titolo come Mad Max: Fury Road a scalzare Avengers: Age of Ultron dalla cima della top ten dei film più visti in Italia. Il reboot di George Miller, applauditissimo al Festival di Cannes (leggi la nostra recensione), nel primo weekend ha incassato un milione di euro, con una media per sala di 1.590 euro distribuiti in 632 schermi: numeri non eccezionali, è vero, complice anche il bel tempo del fine settimana, ma sufficienti per spingere il film in alto. Dove, per altro, è finita anche un'altra nuova uscita importante, Il racconto dei racconti di Matteo Garrone, in concorso a Cannes: circa 898 mila euro in quattro giorni, con la media per sala più alta della classifica pari a 2.041 euro per 440 schermi.
Terza piazza per Avengers: Age of Ultron, che con i 498 mila euro raccolti tra giovedì e domenica scorsa raggiunge i 16 milioni di euro totali in Italia, ma soprattutto nel mondo supera il miliardo,grazie anche agli incassi storici in Cina, i più alti di sempre per Disney.
Seguono Doraemon – Il film (306 mila euro), Adaline – L'eterna giovinezza (297 mila euro) eChild 44, con 129 mila euro.
Complessivamente, numeri in calo di oltre il 35% rispetto al 2014: 4,1 milioni di euro di incasso totale contro i 6,4 dello scorso anno.