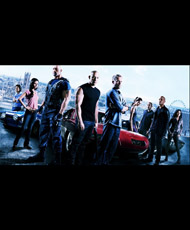 "FAST AND FURIOUS 7", E' TRIONFO AL BOTTEGHINO"
RITORNA FAST AND FURIOUS
pubblicato da
Salvatore Di Mauro
Debutto con il turbo per Fast and Furious 7: l'ultimo capitolo del franchise Universal, con l'addio a Paul Walker morto nel 2013 a 40 anni, dopo l'esordio da quasi 150 milioni di dollari negli Usa, incassa in Italia nel weekend oltre sette milioni di euro (7.139.142, dati Cinetel). Resta al secondo posto L'ultimo lupo di Jean-Jacques Annaud; al terzo un'altra new entry, Into the Woods firmato da Rob Marshall. Box office totale del fine settimana end di Pasqua a 13,6 milioni, quasi il doppio (+96%) dello weekend precedente. Fast and Furious 7, con il nuovo capitolo della celebre saga, ha debuttato su oltre 15.000 schermi in 63 Paesi del mondo. Sul fronte americano ha incassato al debutto 143,6 milioni di dollari, mettendo a segno il miglior giorno d'apertura di sempre ad aprile (67 milioni di dollari), il miglior weekend d'esordio di sempre ad aprile e il nono in assoluto. Nel mondo il film è già a quota 384 milioni: il quarto miglior esordio di sempre. Davanti, ci sono solo Harry Potter e i doni della morte, Harry Potter e il Principe Mezzosangue e The Avengers. Tornando agli incassi italiani, tra le new entry da segnalare La scelta di Michele Placido, liberamente ispirato a un racconto di Pirandello (L'innesto): protagonisti Raoul Bova e Ambra Angiolini in una storia drammatica, si colloca al settimo posto. La prima settimana in sala di Third person di Paul Haggis, con il trittico di storie d'amore e solitudine sullo sfondo di tre grandi città, Parigi, New York e Roma, vale solo il decimo posto.
Fonte: http://www.repubblica.it/