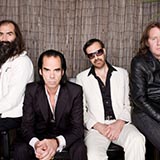 NICK CAVE & THE BAD SEEDS BAND
Nick Cave nasce il 22 settembre 1957 in Australia. Dopo aver guidato le band australiane Boys Next Door e Birthday Party, forma i Bad Seeds nel 1984 in occasione dell'uscita del primo disco solista FROM HER TO ETERNITY: con lui ci sono Mick Harvey (polistrumentista, già nei Birthday Party), Thomas Wydler, batterista e membro dei Die Haut, e Blixa Bargled, chitarrista e carismatico leader della band rumorista berlinese Einstürzende Neubauten. I tre musicisti formano il nucleo della band. Nati già come gruppo di culto (tanto da meritarsi, nel 1987, le sequenze finali de "Il cielo sopra Berlino" di Wim Wenders), Nick Cave and the Bad Seeds si fanno apprezzare molto dalla critica specializzata e dal pubblico più colto: album come KICKING AGAINST THE PRICKS (1986) e THE GOOD SON (1990) conquistano molti appassionati di musica ai quattro angoli del mondo, ma non i consensi del grande pubblico. Il gruppo deve infatti aspettare il 1996, quando col primo singolo estratto dall'album MURDER BALLADS, "Where the wild roses grow", arriva l'attenzione dei canali più commerciali, grazie anche alla collaborazione con Kylie Minogue.
Tra il 1997 e il 2001, Nick Cave pubblica due album molto fortunati in termini di riscontro da parte di critica e fan: THE BOATMAN'S CALL (1997) e NO MORE SHALL WE PART (2001). Il nuovo capitolo della saga è NOCTURAMA, che esce nel febbraio 2003: un ritorno ad atmosfere più aggressive, vicine a quelle dei primi lavori. La vena creativa di Nick Cave sembra rifiorire anche in termini quantitativi: dopo solo 18 mesi, a fine settembre 2004, arriva un nuovo doppio album di inediti, ABATTOIR BLUES / THE LYRE OF ORPHEUS.
Cave, sempre attivo in campi artistici limitrofi alla musica come la scrittura, si dedica quindi al cinema. Dopo aver collaborato alla stesura di diverse colonne sonore, firma il soggetto e le musiche di "The proposition", un "western australiano", che ottiene parecchi consensi nel 2006. Alla fine dello stesso anno annuncia aver terminato di comporre il copione per il suo secondo film, "Death of a ladies man", mentre nel 2007 torna sulle scene musicali con un nuovo progetto: i Grinderman, band formata insieme a due Bad Seeds (Martyn Casey e Jim Sclavunos, quest'ultimo già nei Cramps) e il fondatore dei Dirty Three Warren Ellis, che pubblica il disco eponimo a marzo. A fine dello stesso anno esce la colonna sonora di un altro westerne, "The death of Jess James", composta insieme al Bad Seed Warren Ellis, mentre a marzo 2008 Cave ritorna sulla strada principale: esce DIG, LAZARUS, DIG!!!, nuovo album di studio con i Bad Seeds. Nel 2009 esce un suo romanzo, "La morte di Bunny Munro", e nel 2010 riforma i Grinderman, che in autunno pubblicano il secondo album. Nel 2012 cura la colonna sonora di "Lawless" con Warrenn Ellis, mentre il ritorno con i Bad Seeds si ad inizio 2013: il disco, pubblicato febbraio, s'intitola PUSH THE SKY AWAY, a cui segue un tour che si prolunga fino al 2015. Nel 2014 esce un film dedicato alla sua figura, "20.000 days on earth", e nel 2015 Cave pubblica un nuovo libro, "The sickbag song" (scritto su sacchetti per la nausea, durante le varie tappe del tour americani) e una nuova colonna sonora con Warren Ellis, LOIN DES HOMMES. Nel 2015, una tragedia: uno dei due figli gemelli viene trovato morto dopo essere caduto dalle scogliere di Brighton, dove Cave vive: era sotto l'effetto di stupefacenti. Il lutto e la sua elaborazione danno forma al disco successivo, SKELETON TREE, anticipato dal film documentario "One More Time With Feeling". Il cantante si imbarca quindi in un lungo tour, documentato in nuovo film, "Distant sky - Live in Copenaghen", che arriva nei cinema nel 2018.
(21 mar 2018)